Every activator has an advanced web console to log the Award QSOs.
The console allows for real-time monitoring of the whole Award, including every activators' activity
It's possible to log QSOs in real-time manually or with common logging software running on the activator's PC, using their UDP connection.
Activator console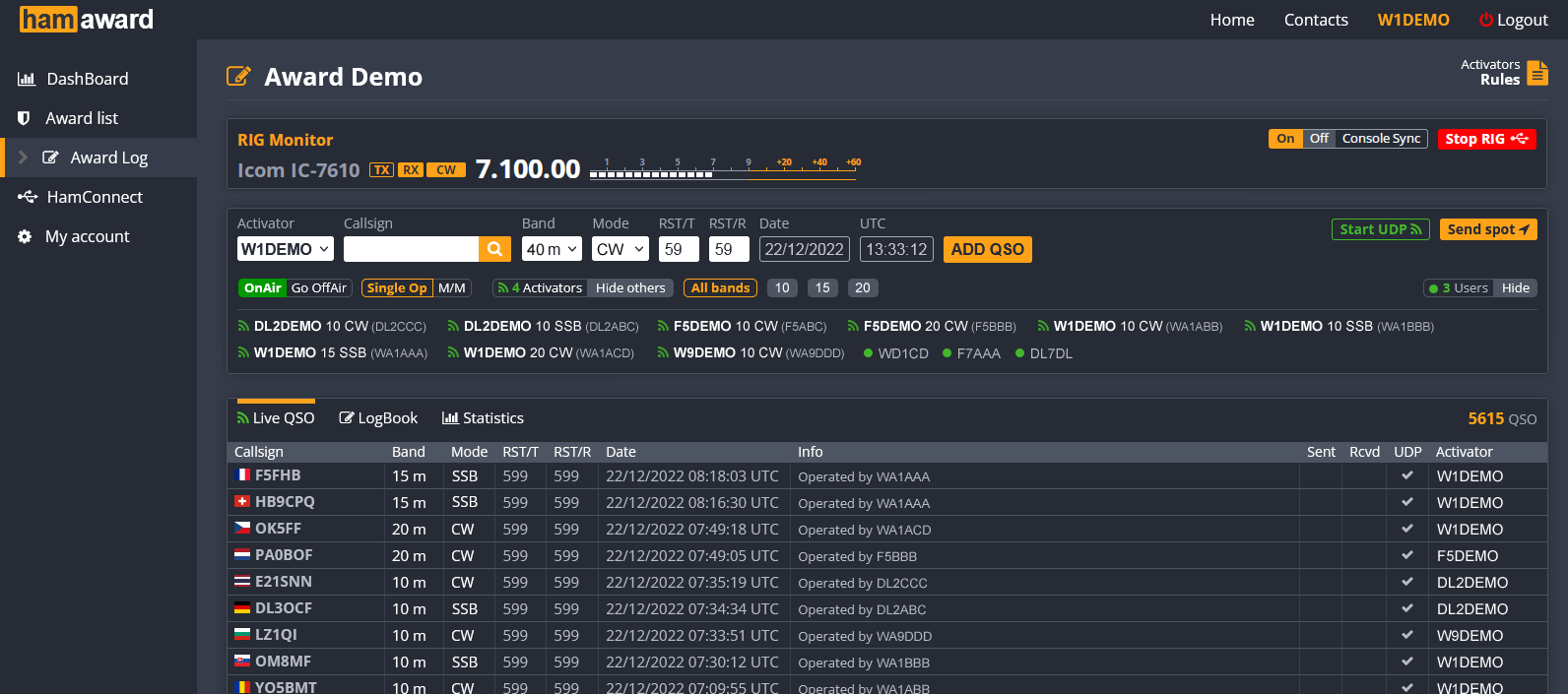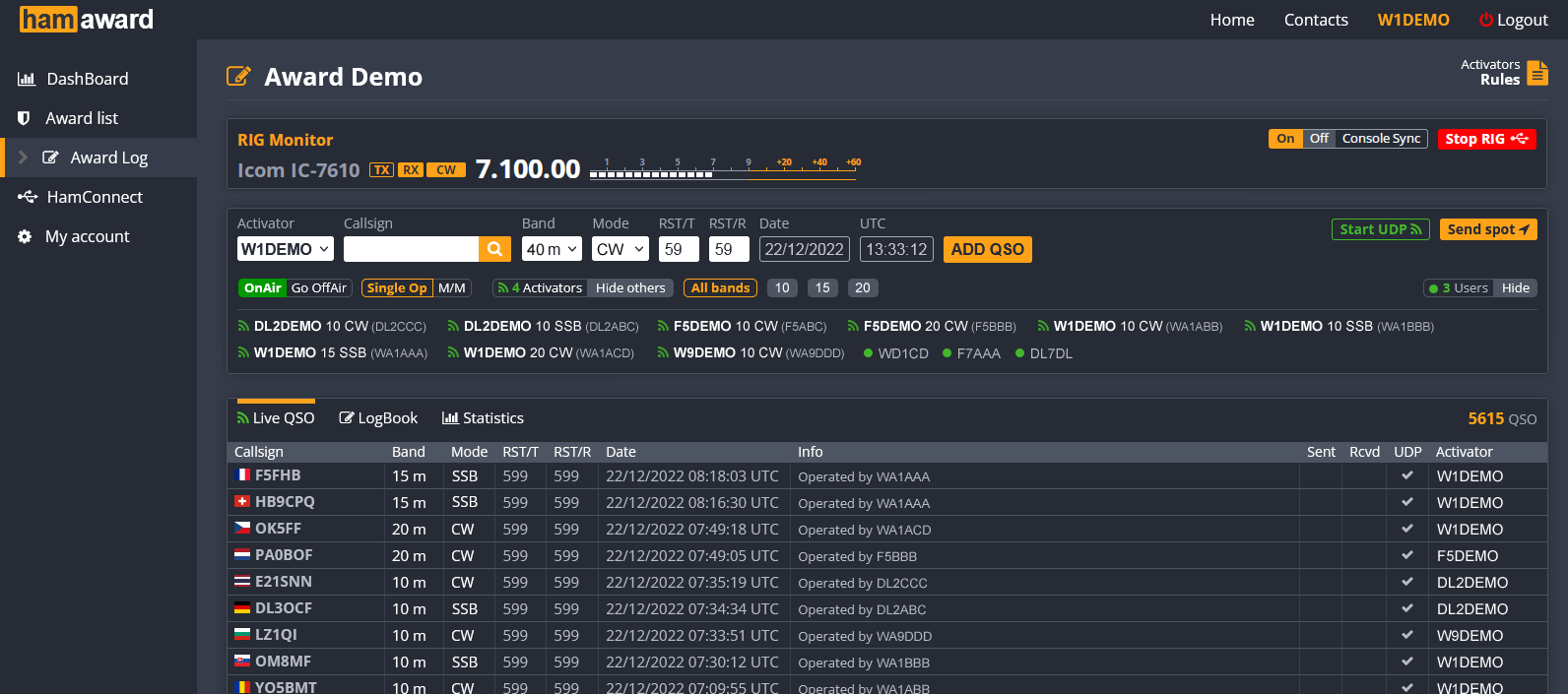 Click the image to zoom
Activators using manual console
By setting band and mode, activators may log their QSOs directly on the HamAward page with the possibility of looking up any hunter's qrz.com info beforehand. All logged QSOs are shown, in real-time, on the "Live Qso" summary tab.
Activator using manual console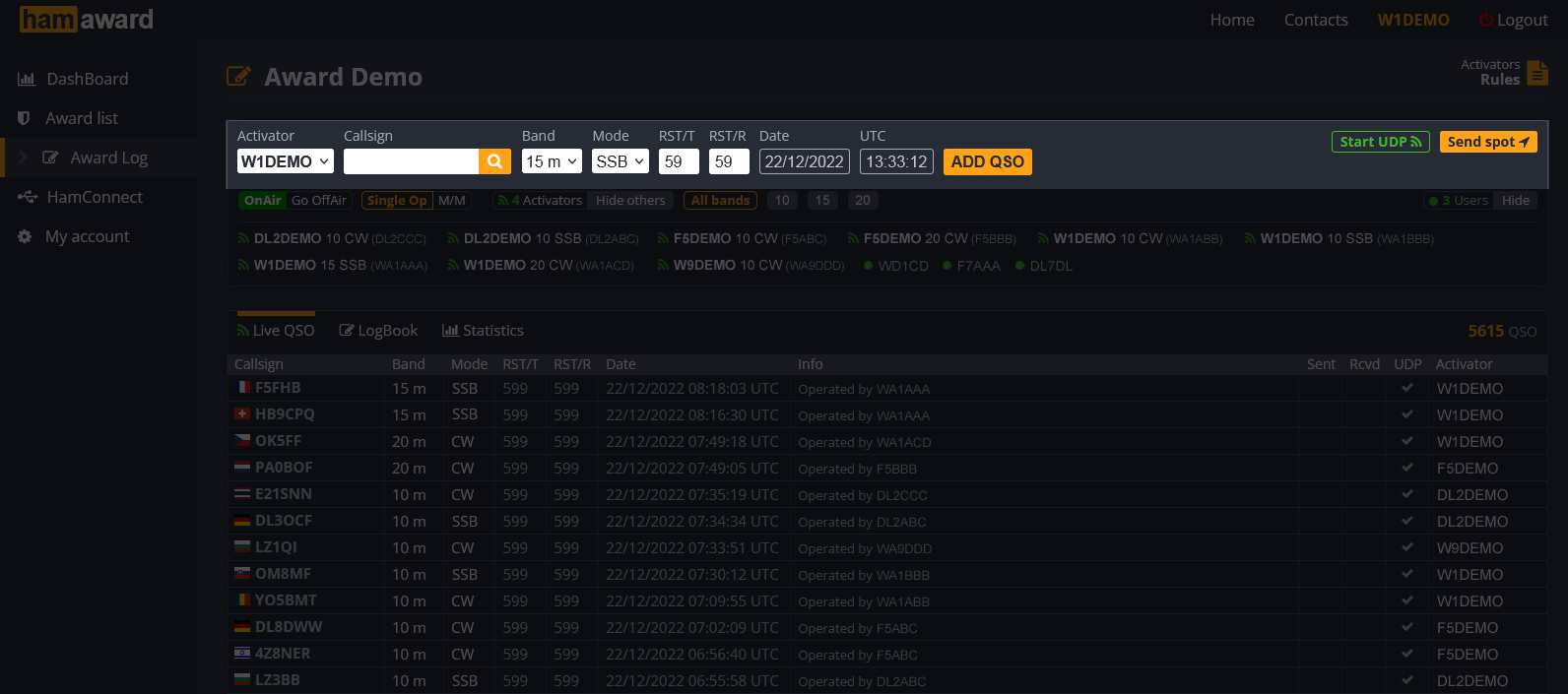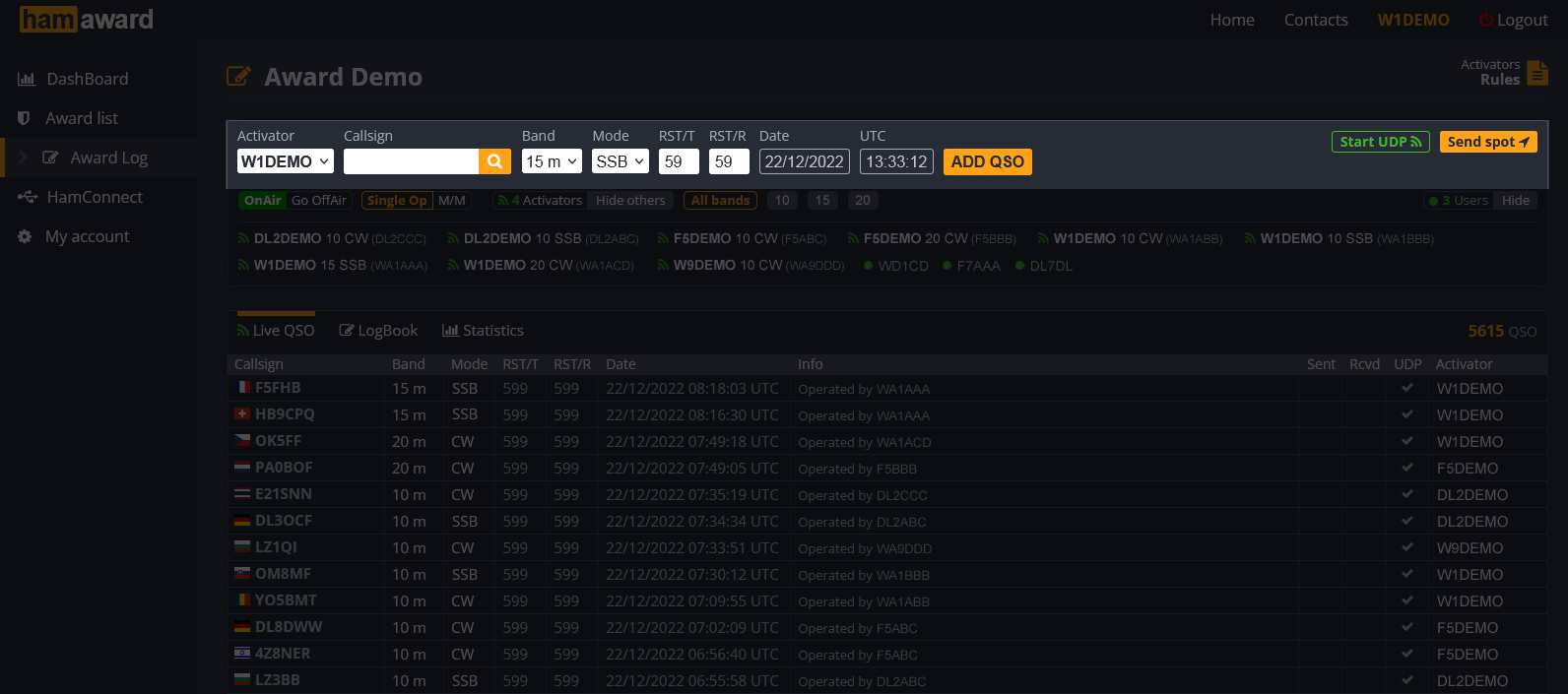 Click the image to zoom
Activators using UDP Broadcasting
By setting band and mode, activators may log their QSOs directly on the logging software. A little app called HamConnect will send the logged QSOs to the HamAward platform using an UDP connection. Activators will see, in real-time, their QSOs as "SAVED" if successfully logged, or as "ERROR" in case of wrong format callsign, out of mode or current band.
Activator using UDP Broadcasting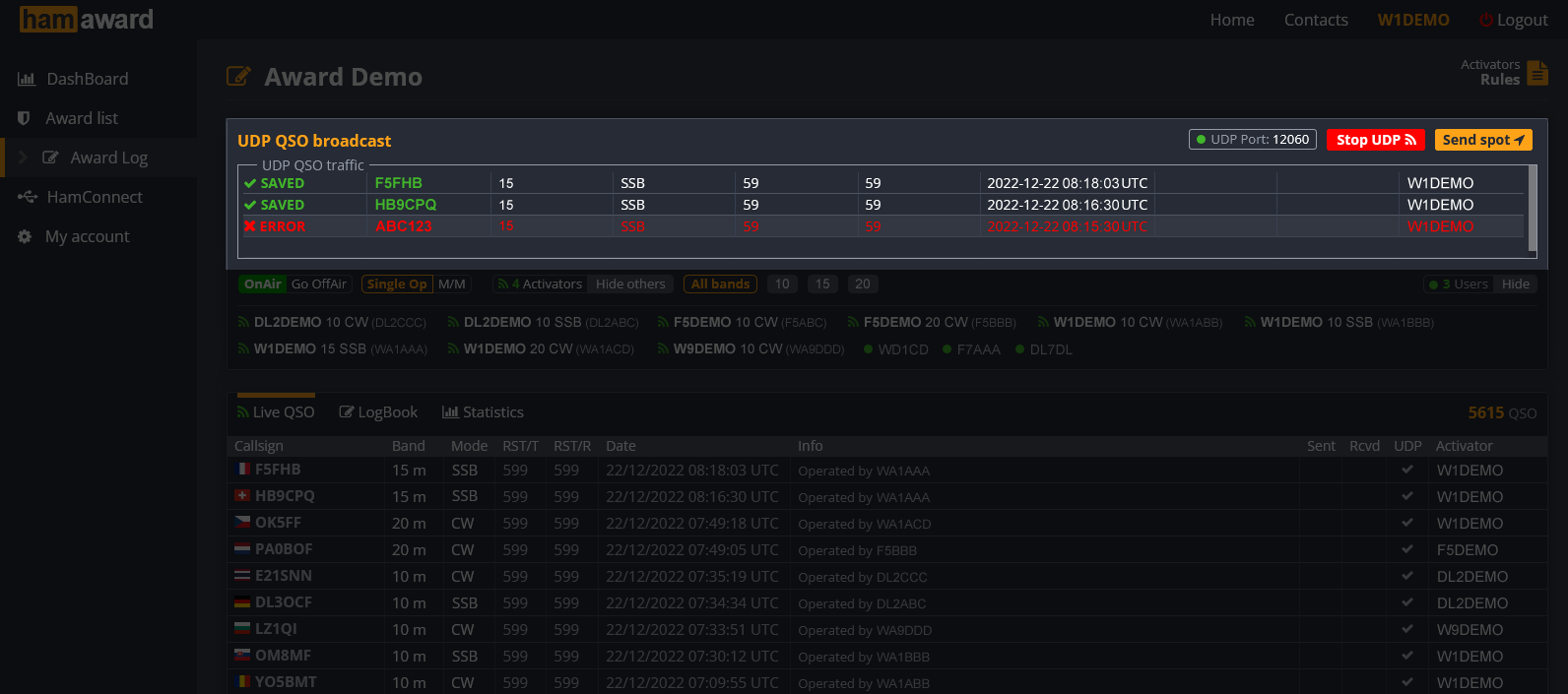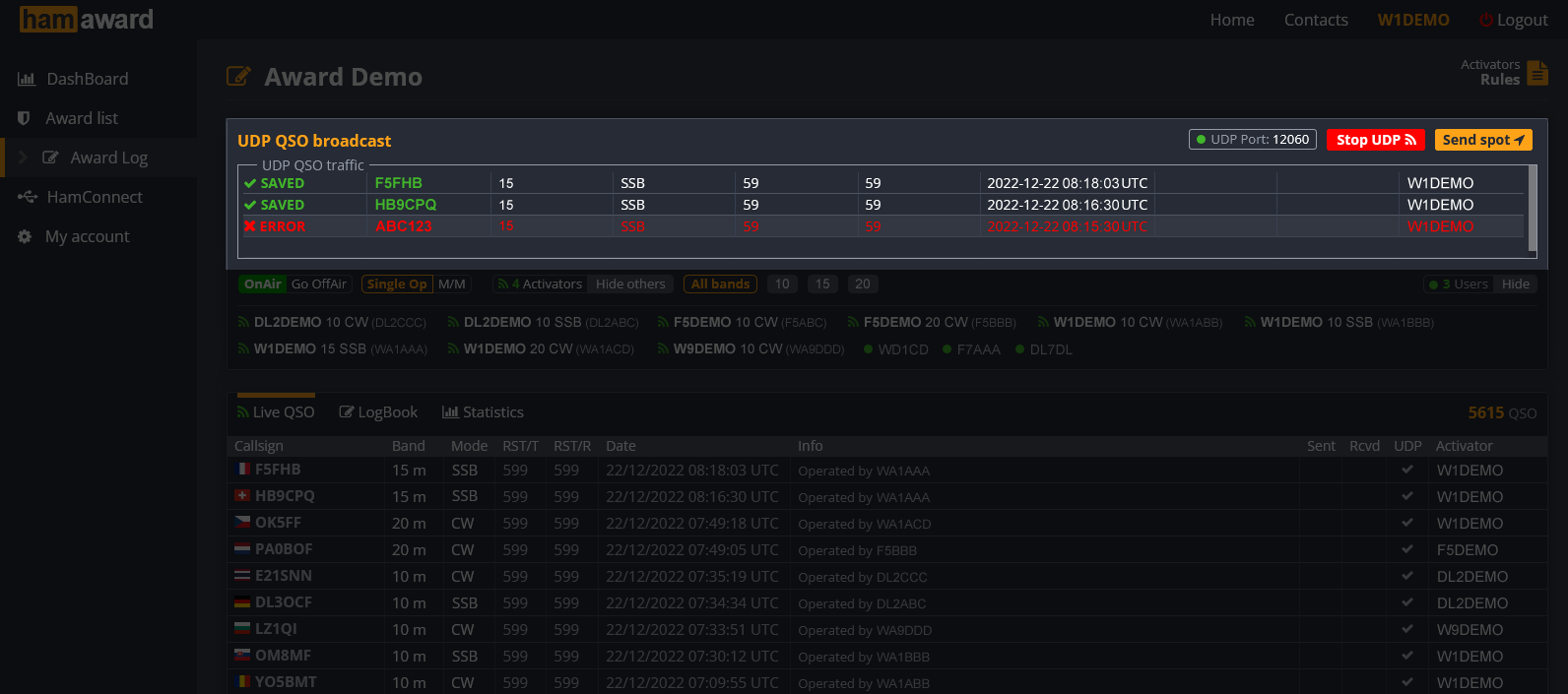 Click the image to zoom
Real time monitoring
Activators may monitor, in real-time, not only theirs but every other operator's activity.
Real time monitoring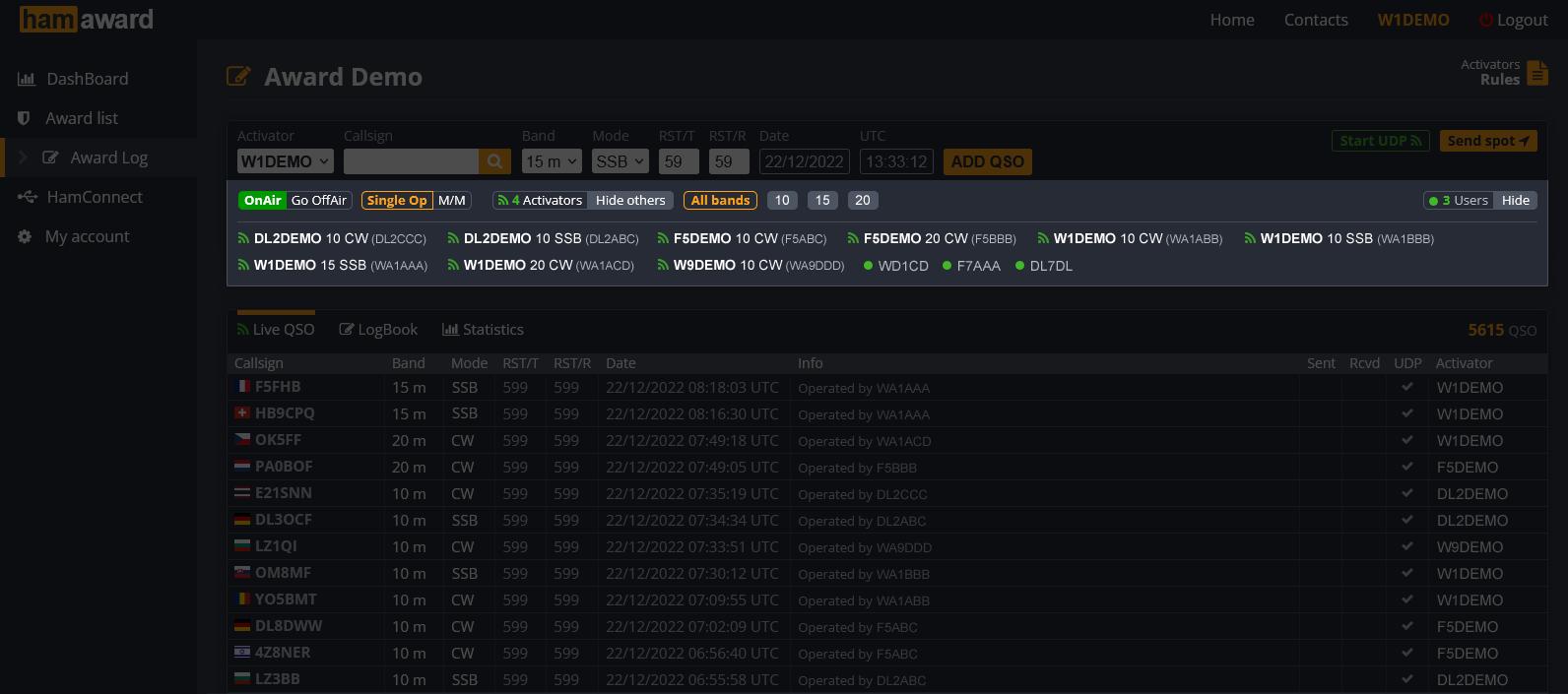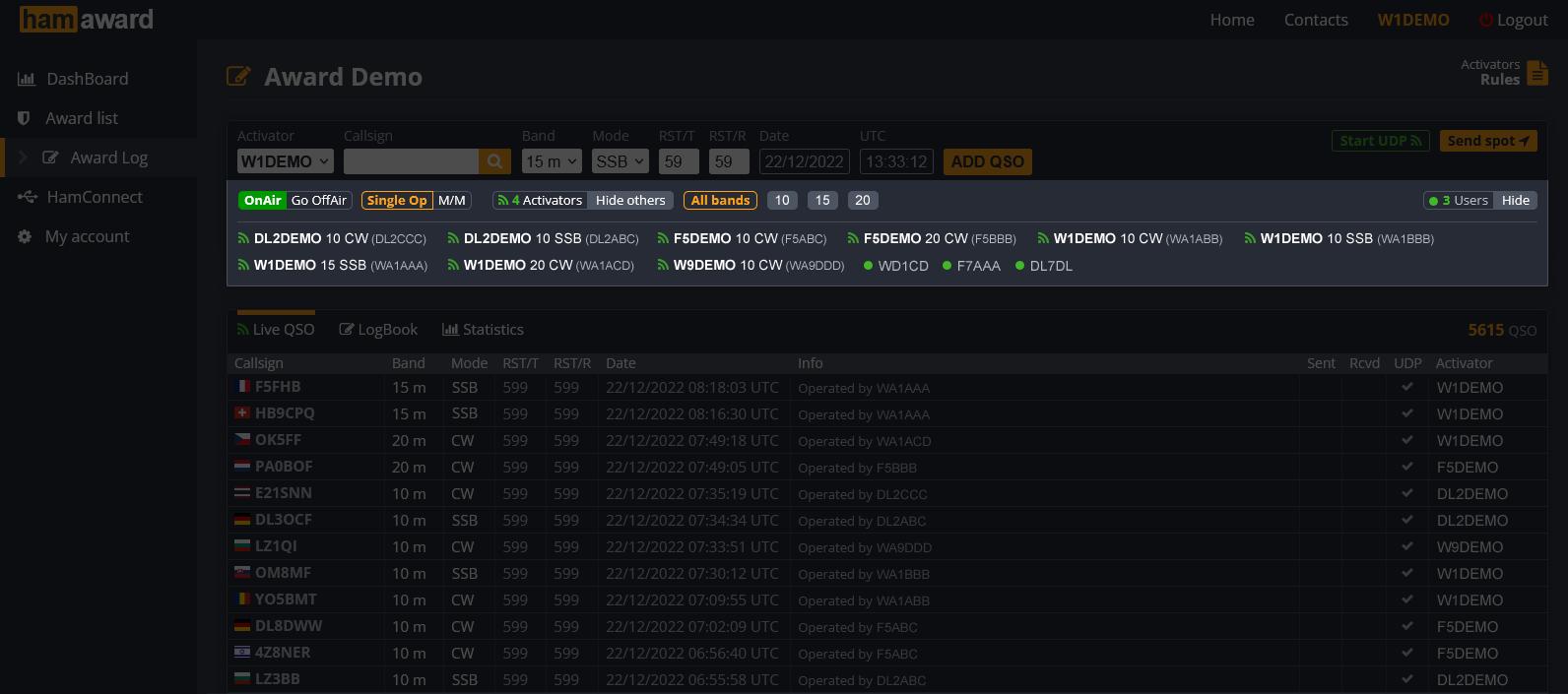 Click the image to zoom
- OnAir / Offair status
- Single Op or M/M operating status
- Total number of OnAir activators
- Filter for their own team activity
- Filter OnAir list by bands
- View real-time list of all OnAir activators, with callsign, band, mode and operator callsign
- Filter for Online activators, with callsign, that are not OnAir
Live QSO
The Live QSO tab lists the last 20 QSOs of all activators in real-time. Personal QSOs are listed with different color.
Live QSO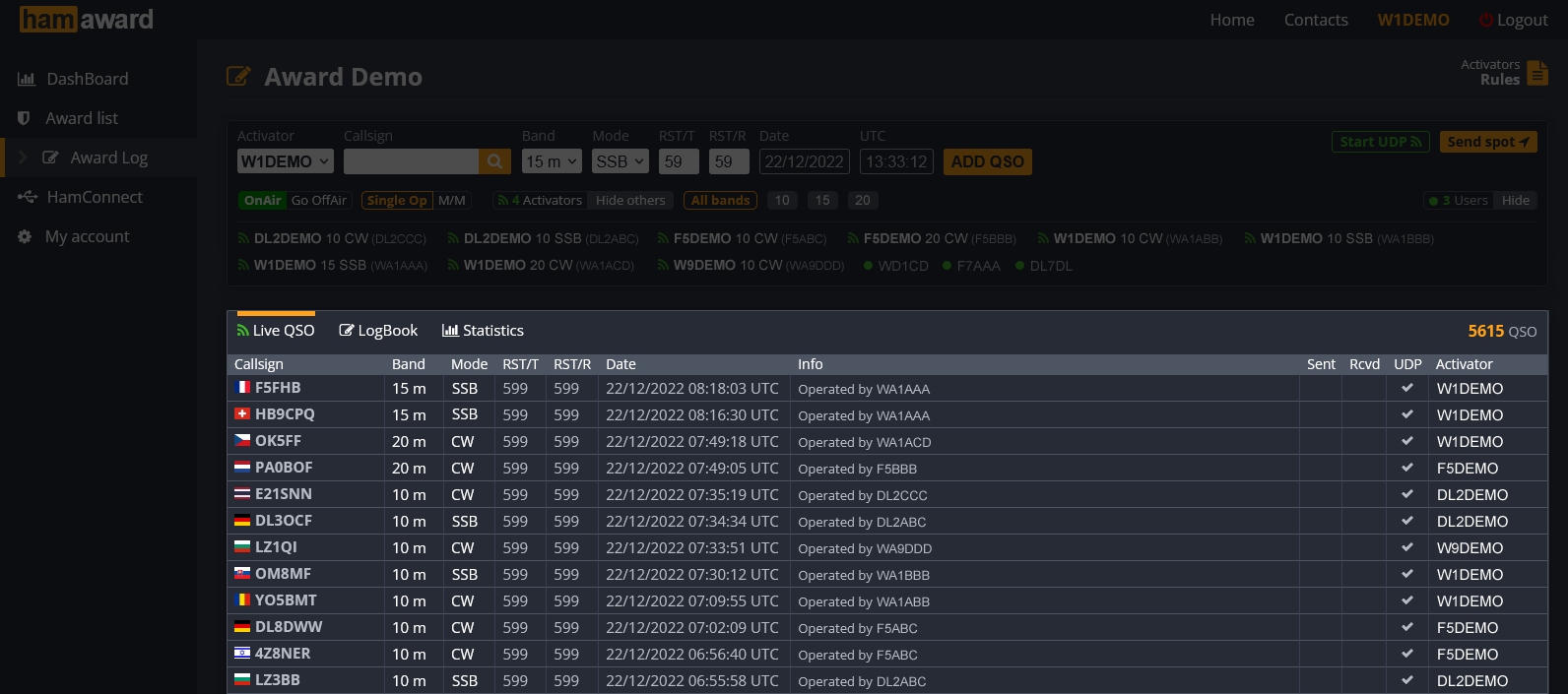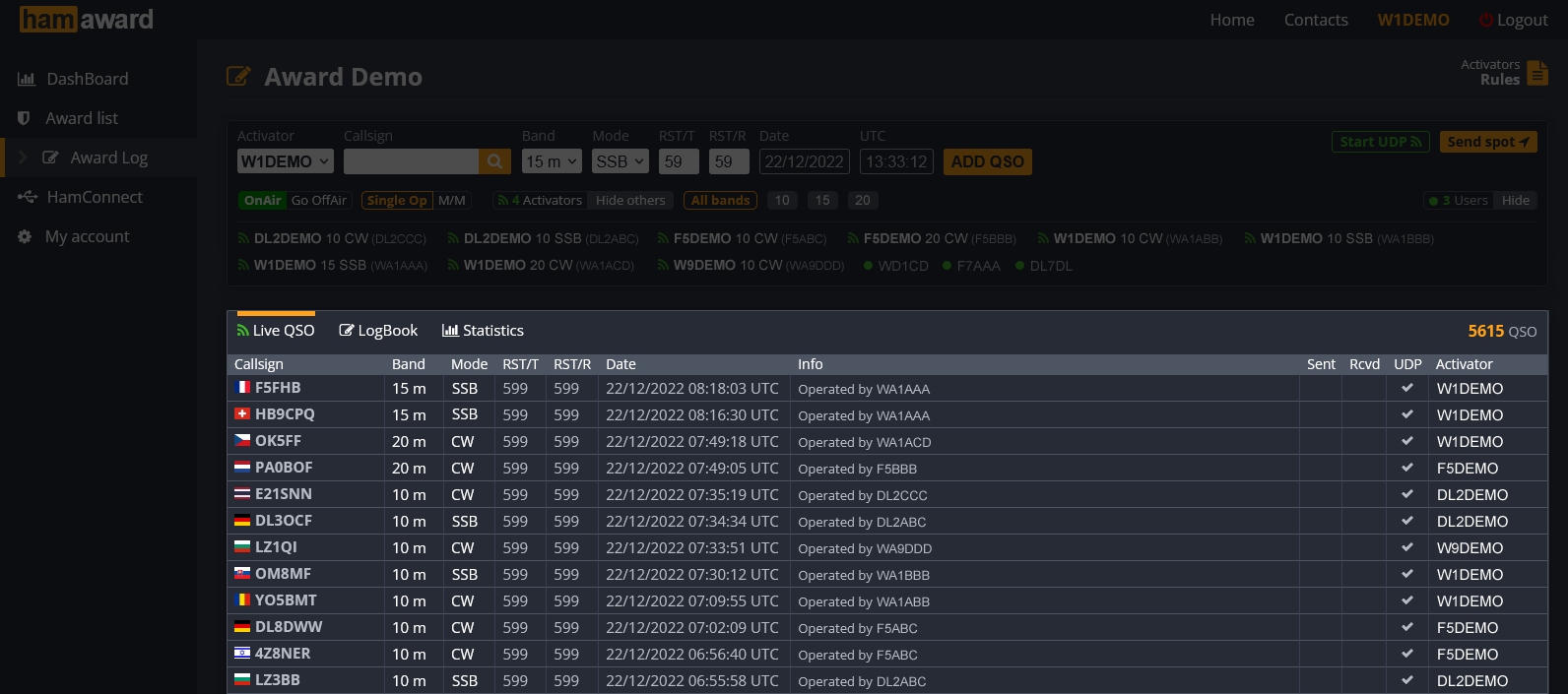 Click the image to zoom
Logbook
Every activator can examine the complete Award logbook and update it manually or with their own ADIF file. The logbook can be filtered for advanced lookup. It's also possible to download the filtered logbook in ADIF or Cabrillo format.
Logbook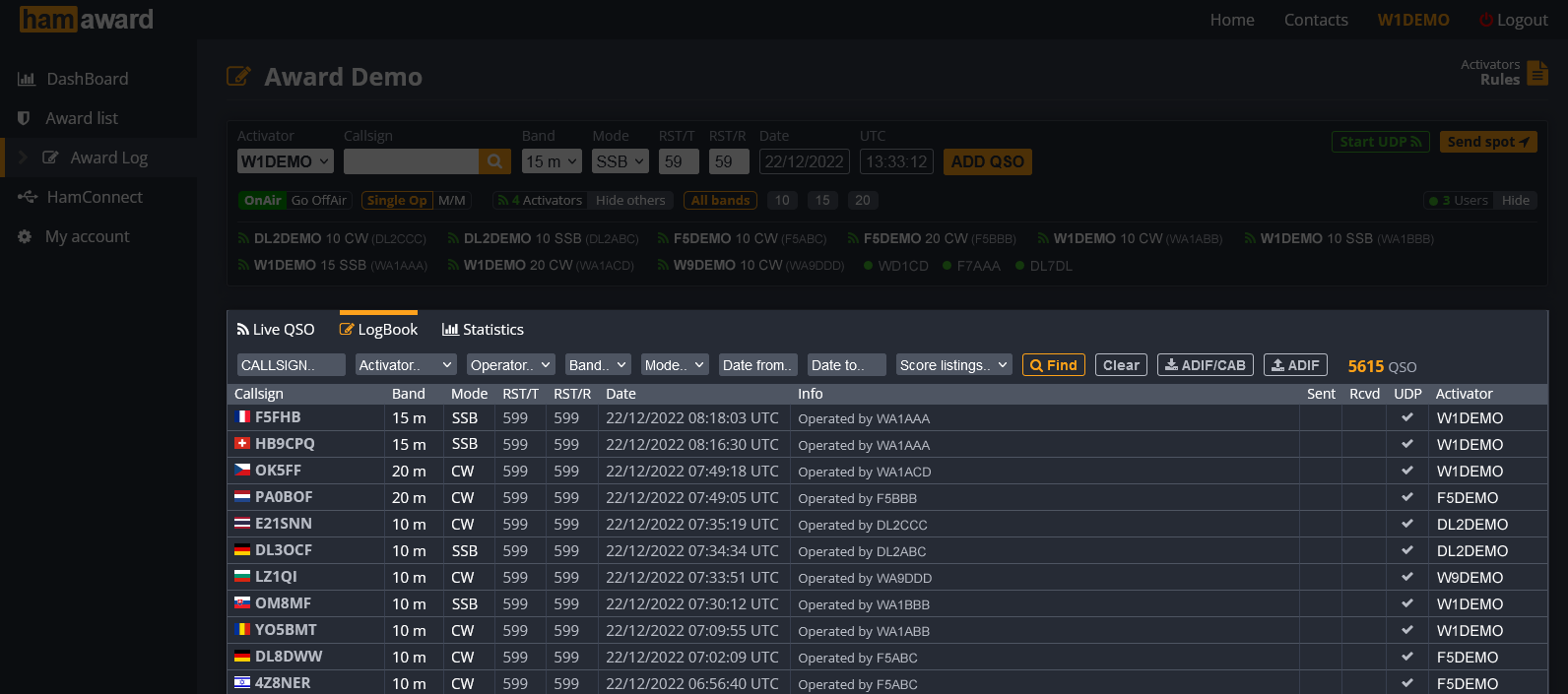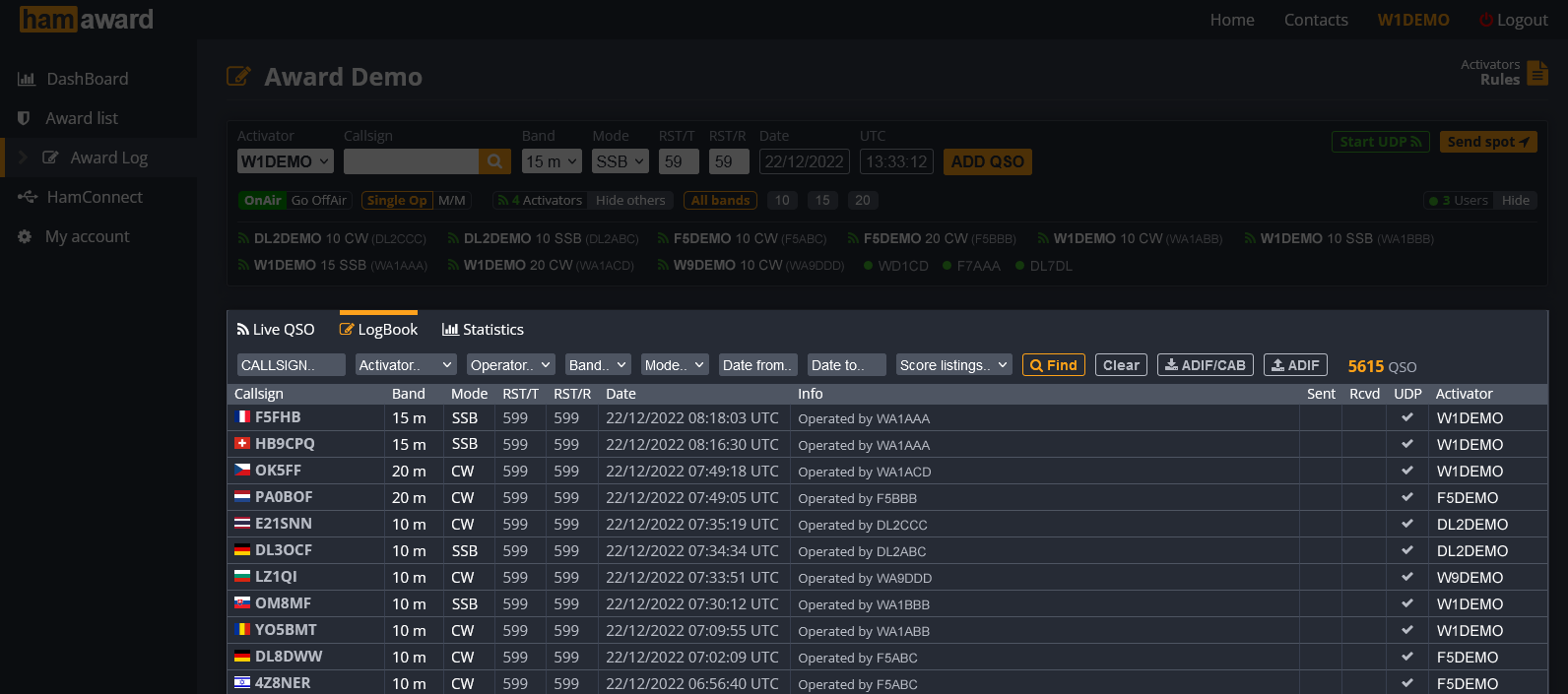 Click the image to zoom
Stats
Statistics are divided in three types, conditioned by logbook filters as well:
- Difference between Yesterday QSOs and Today QSOs
- Daily QSOs
- Activator, Band and Mode QSO number
- Top countries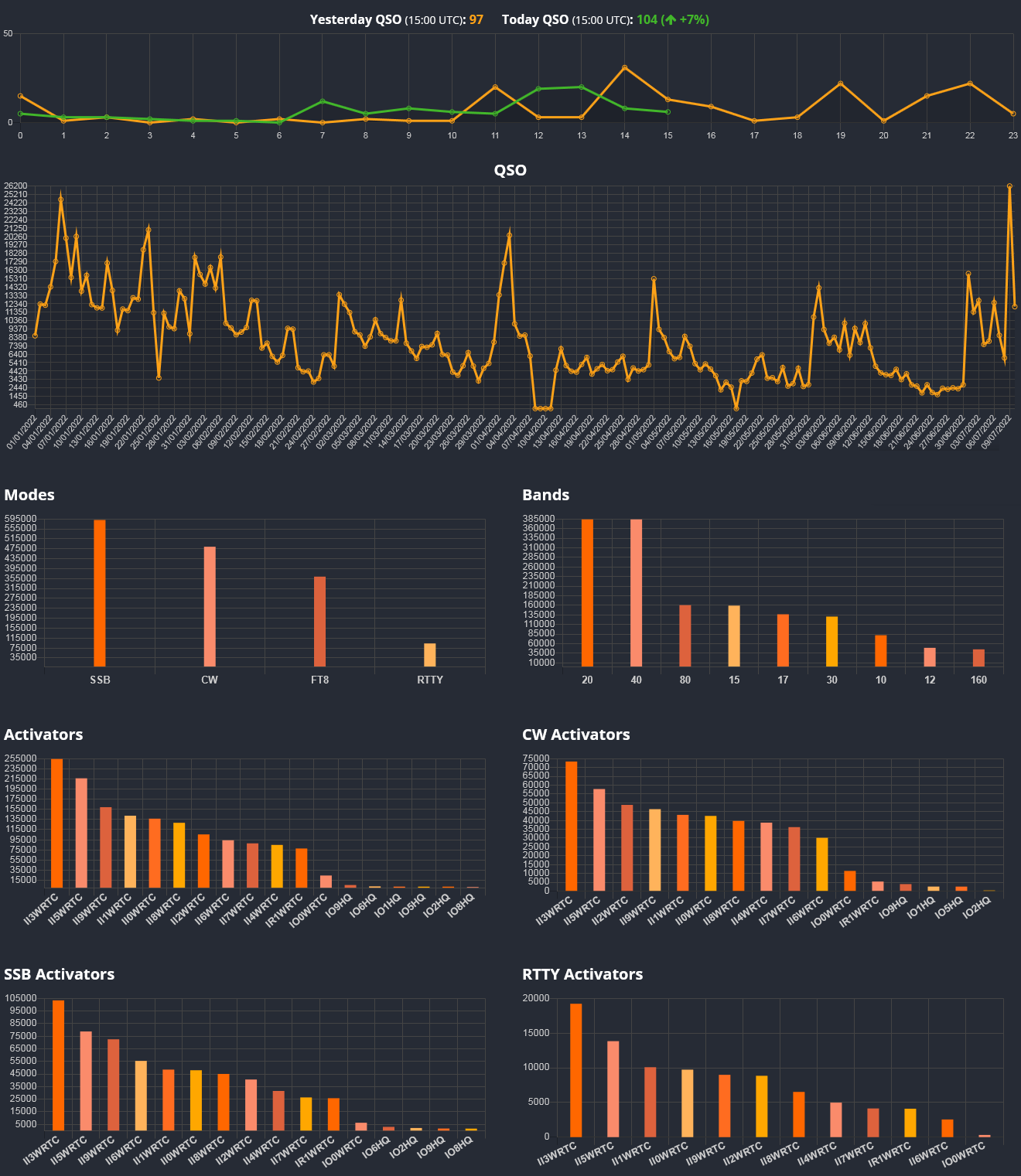 Real stats based on WRTC 2022 Award with over than 1.5M Qso
HamChat for activators
An easy-to-use chat allows activators rapid communication with each other.
HamChat for Activators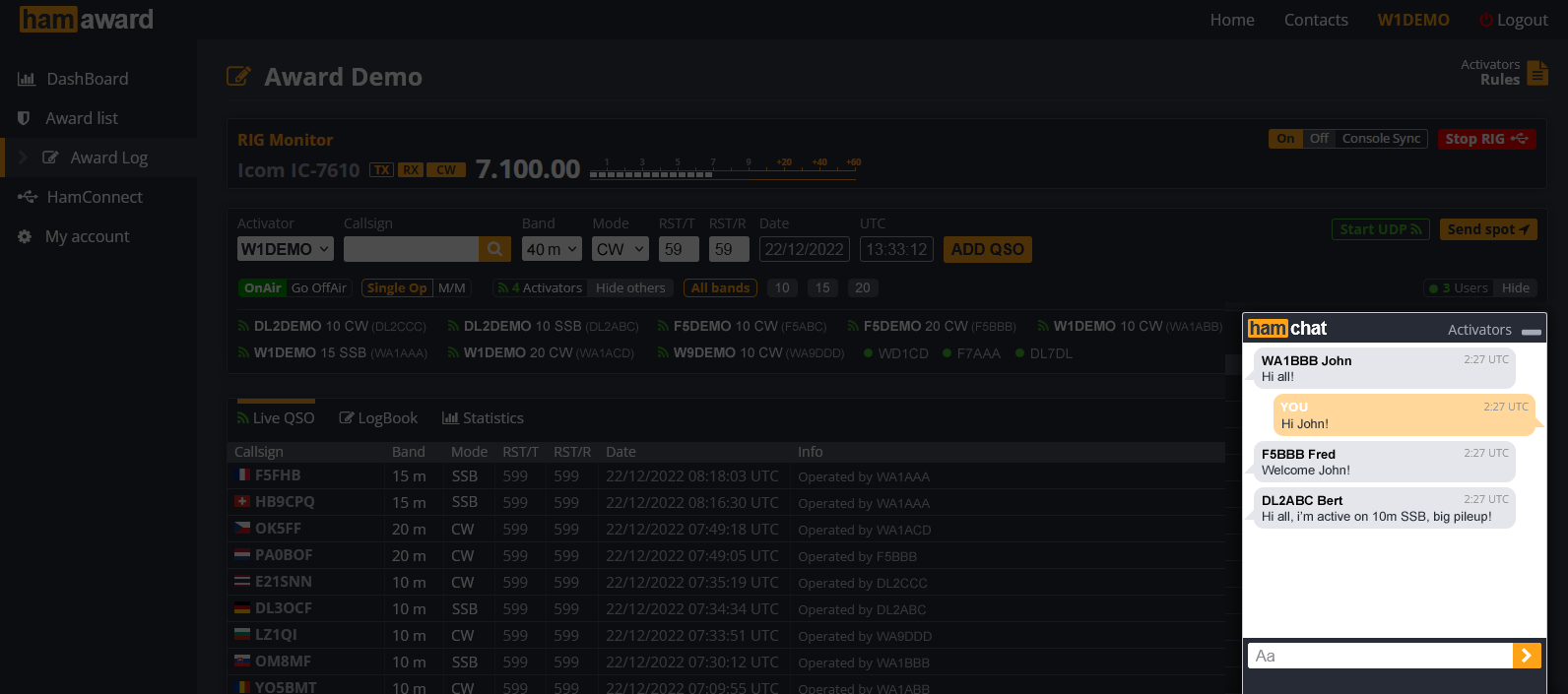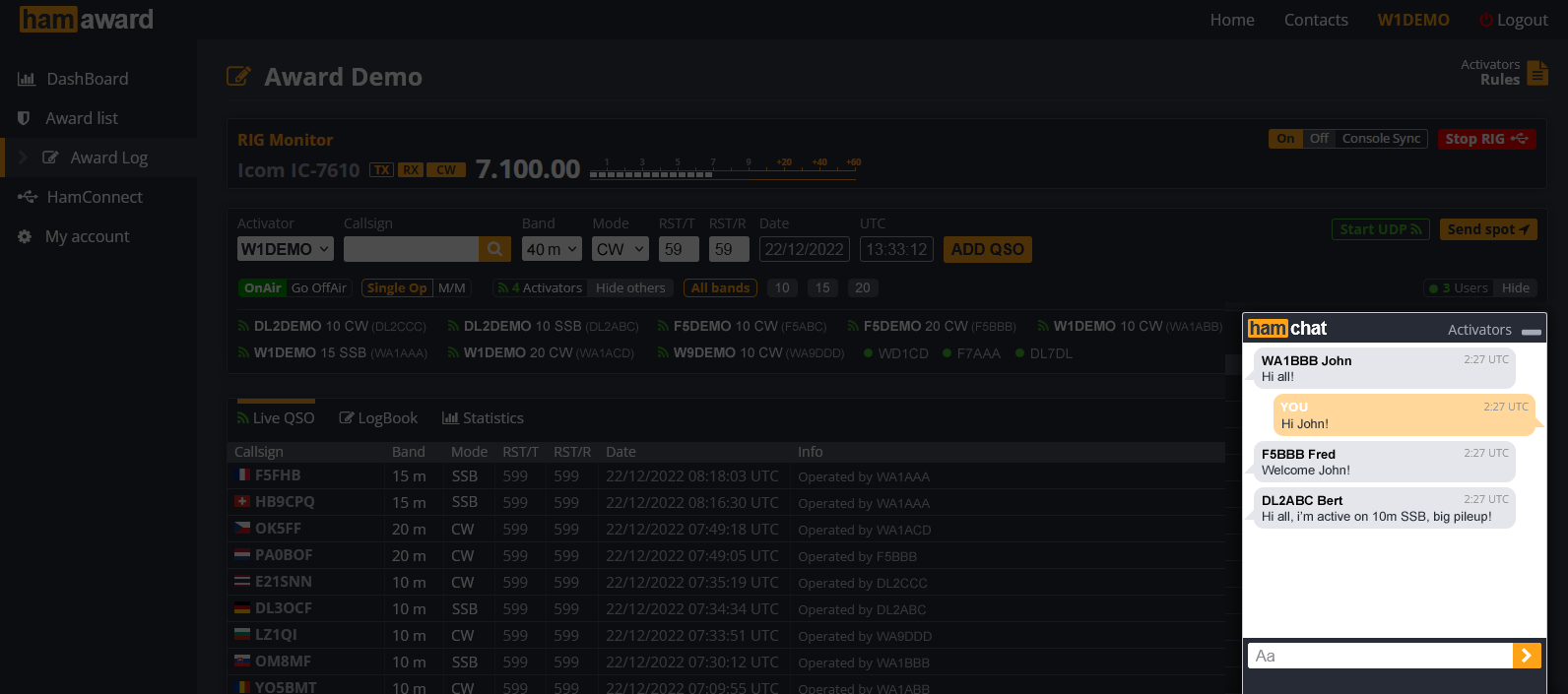 Click the image to zoom
OnAir / OffAir
Activity by an activator may be announced in advance (before logging QSO). This allows other activators to monitor their unique callsign activity to avoid duplicate callsigns on the same band and mode. If, for any reason, the operator decides to change band or mode, the console will automatically follow his choice. There is the ability to choose between Single Operator and Multi Operator setup.
OnAir / OffAir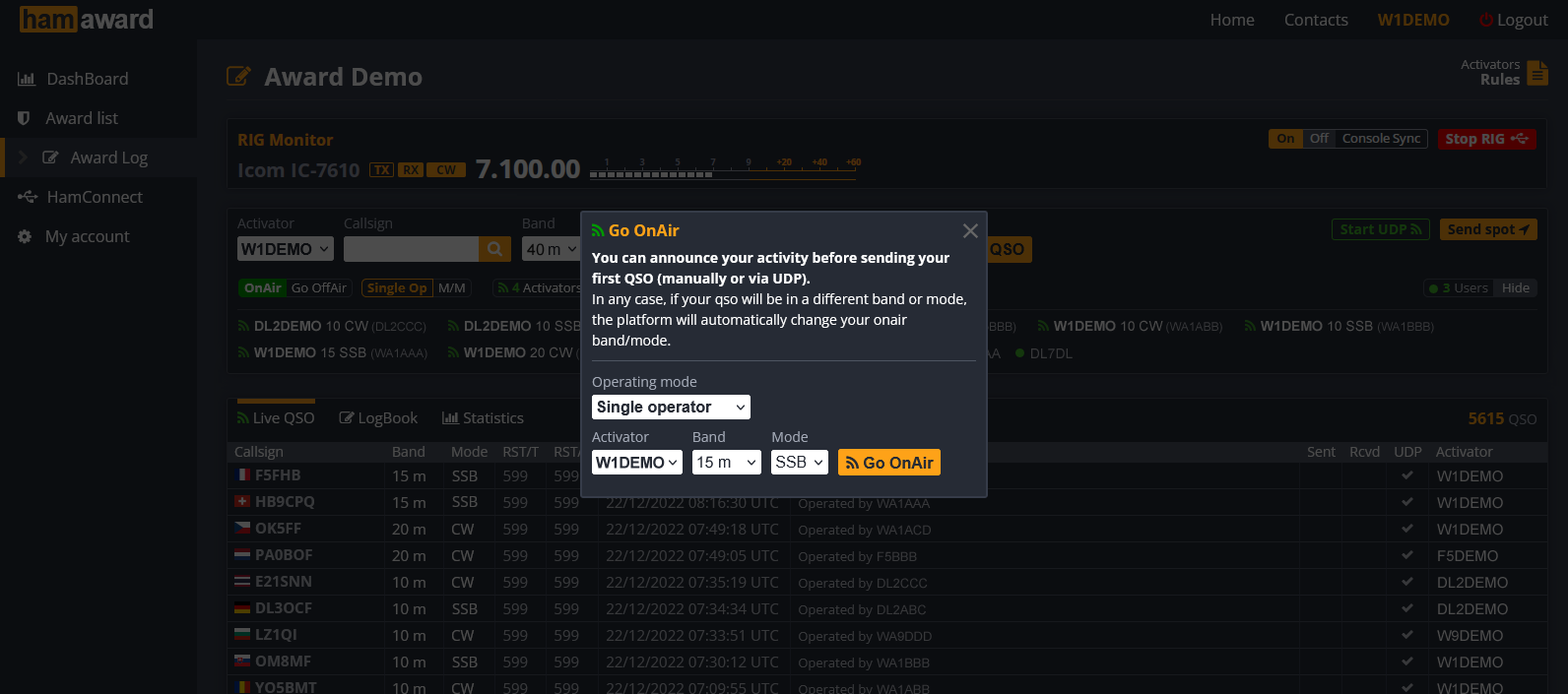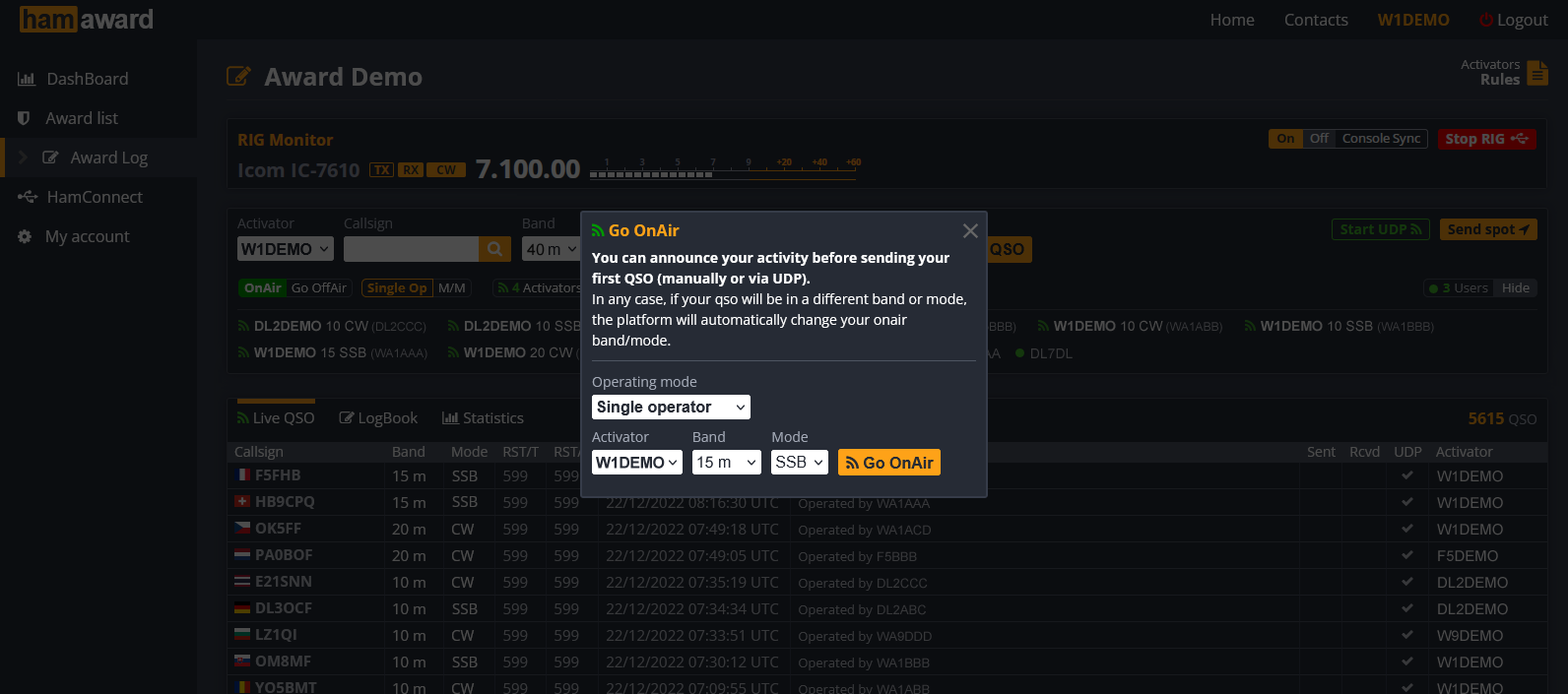 Click the image to zoom
Cluster Spots
HamAward provides a Cluster Spotting service.
It's possible to send spots simply by selecting the frequency. If the Rig Monitor is active, the frequency is selected automatically.
The platform will customize the comment message with the Award name and a short link (ham.cm domain) to the Award main page.
Cluster Spots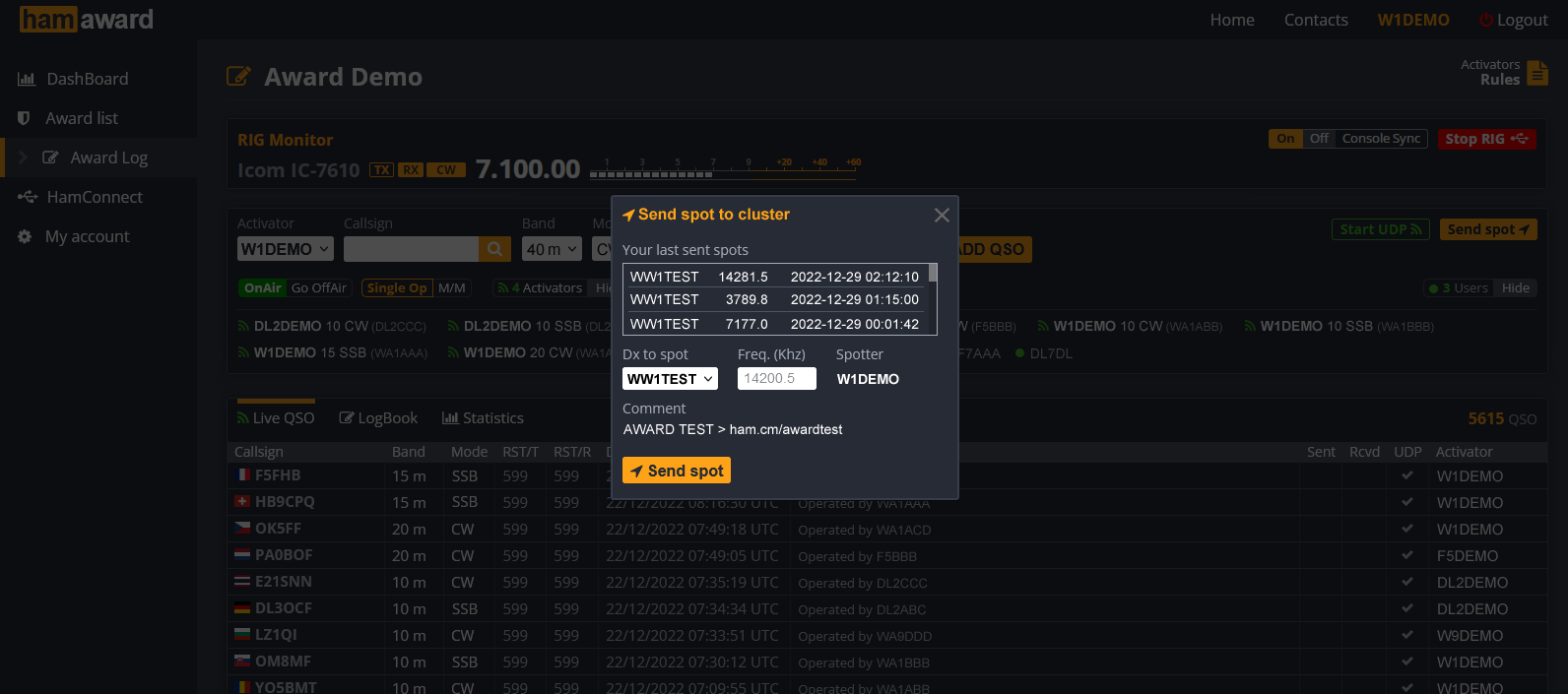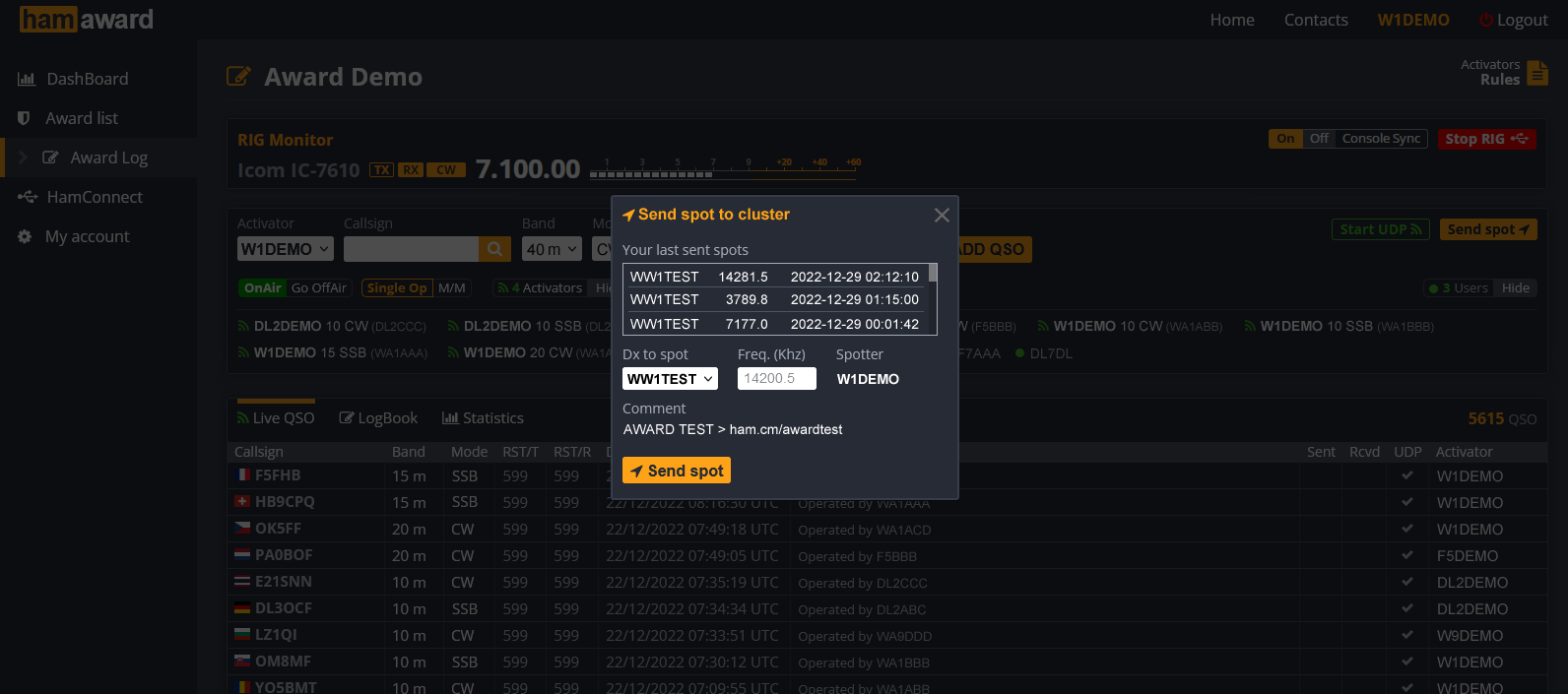 Click the image to zoom
Multi / Multi Setup
Activators can use a Multi/Multi setup with a single HamAward account. (For example using M/M activity)
How to setup:
- Multiple operators/radio in different bands/modes.
- Only one logging software as QSO collector.
- Only one active HamConnect.
- Only one operator account logged in.
- Only one HamAward tab open, with M/M status active.
Result:
Every OnAir Band/Mode will be shown as single activator. Every activator will be shown as (MULTI) and not with their personal callsign.
Be sure to use ONLY ONE:
- logging software with UDP enabled as collector.
- HamAward account with active UDP Broadcast.
- active HamConnect.
How to start Multi / Multi:
- When going OnAir, select "Multi / Multi setup" as Operating mode
Any other setup will cause lot of useless DUPEs on your QSO UDP Broadcast traffic console.
Activator callsign with multi operators
Each activating callsign can have multiple operators active on different bands and modes at the same time.
Example using W1DEMO as Activator callsign:
W1DEMO 160 CW (WA1AAA)
W1DEMO 80 CW (WA1ABC)
W1DEMO 80 SSB (K1BBB)
W1DEMO 20 SSB (W1WW)
W1DEMO 15 CW (K1KKK)
Useful notifications for activators
To help the activator, HamAward provides many security alerts during QSO entry both manually and via UDP Broadcasting:
- Real-time alerts in case of internet disconnection, so as to avoid missing the saving of the QSOs in the online log.
- Warnings if activators try to go OnAir in a band or mode already occupied by one of their teammates (same callsign)
- Notifications when hunters' callsigns are incorrect (system based on cty.dat).
- The platform also warns when the UDP band or mode is out of range.